Administration and Finance Diversity Statement

The Division of Administration and Finance believes that true success comes from the development of a team that includes a representation and appreciation of a diverse workforce and that our inclusiveness serves to make us strong.
We encourage our employees – especially those in a leadership role – to seek increased awareness about marginalized and diverse populations on our campus and in our culture.  Those achieving Inclusion Champion Certification demonstrate a high level of commitment to ensuring an inclusive campus community.
Inclusion Champion Certification
Offered through the Office of Diversity and Inclusion, the Diversity Champion certification provides colleges, divisions, and departments with training and education designed for faculty and staff on foundational concepts in diversity and inclusion.  Participants will gain a common body of knowledge and skills to contribute to an inclusive professional environment at UCF.
Why do we put so much emphasis and effort on diversity and inclusion at UCF? As employees of an institution of higher learning, we have a responsibility to broaden our knowledge and understanding of the diverse community in which we work and interact, and to ensure that all in our community feel accepted and included.
In addition to broadening perspectives and leveraging our differences to produce better outcomes, offering our employees the opportunity to learn about diversity and inclusion brings with it many intrinsic benefits—most importantly, helping people be understood and valued. By focusing on a common goal of increasing inclusivity, we can create an environment where teamwork has the fertile foundation to take root and grow. Through training, employees who don't usually work together on a daily basis can learn side-by-side with a co-worker or someone from another department, and the "city" we call UCF can become just a little bit smaller and more familiar.
No time for training? Consider how much time would be available if our team members respected and supported those they encounter, rather than raising concerns about perceived differences. Personnel hours invested in dealing with interpersonal issues can be better spent building a cohesive, collaborative, and positive work environment. An investment in training can make all the difference!
A&F Inclusion Champion Committee
Chair: Tee Rogers
Amy Childs
Barbara Thompson, Diversity and Inclusion
Tania Gutierrez-Catasus, Inclusion Champion
Koldo Berridi
Karen Sgambati, Inclusion Champion
Marisol Morales, Inclusion Champion
Thaismary Morales, Inclusion Champion
Lee Williams-Lana
Makwinder Kaur-McNeil
Annie Brown
Inclusion Champion Requirements
Complete the three core courses (must be after July 1, 2007)
ABCs of Diversity
Inclusive Communication
Understanding Power and Privilege
Complete 6 hours of additional elective hours (must be after July 1, 2016).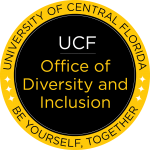 UNIVERSITY OF CENTRAL FLORIDA
DIVISION OF ADMINISTRATION AND FINANCE
4365 Andromeda Loop N. Orlando, Florida 32816 | 407.823.2351
Web: admfin.ucf.edu | email: admfin@ucf.edu
© University of Central Florida