Meet the CFO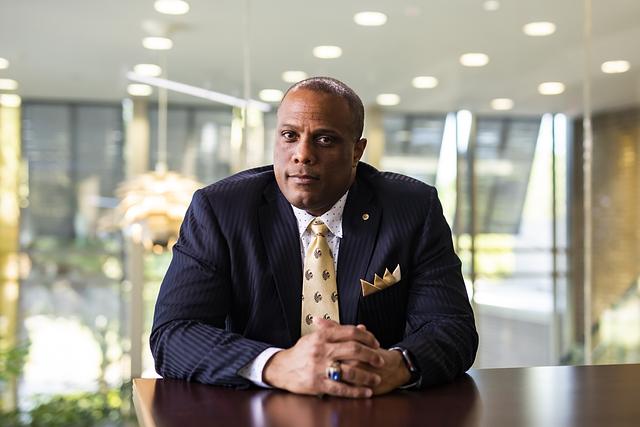 "Out of an outstanding pool of candidates, Gerald stood out because of his impressive experience and his collaborative, compassionate and focused leadership style, which aligns with UCF's values and illustrates that he is the right partner to help in our pursuit of excellence."
– President Alexander N. Cartwright
---
Appearance Request
Contact
A&F Division Org Chart
Gerald Hector has served as UCF's Senior Vice President for Administration and Finance and Chief Financial Officer since January 2021. He oversees accounting, budget planning and analysis, finance, human resources, campus safety, auxiliary enterprises, and all aspects of facilities and business operations management within four divisional business units.
Additionally, he was appointed by the university's Board of Trustees as Chief Executive Officer (CEO) of the following Direct Support Organizations (DSOs): UCF Convocation Corporation, UCF Finance Corporation, and UCF Stadium Corporation.
Before joining UCF, he was the Executive Vice President and Chief Business Officer for Morehouse College, and prior to that, Vice President for Financial Affairs and University Treasurer for Cornell University. He has also held similar leadership roles at Ithaca College and Johnson C. Smith University. Before joining higher education, he was the Corporate Controller for the United Negro College Fund, and a public accountant with then Deloitte and Touche. Considered to be a change agent, he is known for some firsts in terms of higher education and higher education support initiatives. Whether it was working with a team to build the financial framework for the landmark $1 billion Gates Millennium Scholars program to the Student Success Initiative at Morehouse College, he has the ability to bring disparate groups of individuals together to meet common goals and objectives.
As an author, his first published work has birthed a podcast series where he engages thought leaders on matters of early career paths, and where they are today. The book and the podcast are ways that he continue to provide hope and inspiration to young people and young professionals just starting out in their careers. He is a sought after speaker on managing change and the need for any change effort to be rooted in the mnemonic device of OATE (Ownership, Accountability, Transparency and Empowerment).
He is an honors graduate from Howard University where he majored in accounting and holds a Master of Christian Thought degree from the Gordon Conwell Theological Seminary, where he serves as the treasurer of the Board. He is married to his college sweetheart, Sharon-Kaye, and is the father of three children, Joshua, Timothy and Kezia.